Western Decorations
If you want to decorate your home with a western flair, there are western decorations of all descriptions that are readily available. As you can probably guess, "decoration" is a rather broad, all-encompassing term. For some people, a decoration is another name for an accessory or accent, while others describe decorations as knick-knacks, bric-a-brac, or curios.
No matter how you personally define western decorations, we'll take a look at several different kinds. Some items might depict cowboys and/or cowgirls. Often, the cowboys/cowgirls are portrayed in a setting that involves ranching or rodeo activities. Other western-themed items might have a design that represents one of the various landscapes of the west, such as mountains, desert cactus, or red rock canyons.
Horseshoe
Candy Dish

Cowboy
Wine Glass Holder

Rope Design
Coaster Set
Western decorations come in all shapes and sizes. Some items have a practical purpose, while other items are simply for show or to help set the mood. There are candleholders, key holders, wastebaskets, planters, mirrors, and picture frames available in several western styles. Western style wine racks, wine glass holders, coasters, candy dishes and snack trays are a few more items that can add to the overall theme. You can also find plenty of art and decorative pieces that will enhance the western look and feel.
| | |
| --- | --- |
| | |
| 3-D Horse Metal Wall Art | Mutual Affection Sculpture |
Finding YOUR favorite items is fun and easy!
Back In The Saddle

Home Décor, Gifts, Apparel, and More for Horse Lovers.
Rocky Mountain Run
Metal Wall Art

Horses on Slate
Tabletop Fountain
In many rooms, the walls are painted a neutral color and the main pieces of furniture will often fit in with more than one specific style of decorating. Just as with a meal of chicken or beef where the real flavor comes from a certain blend of spices, herbs, and garnishes, the real character and ambiance of a room comes from the accessories and accents.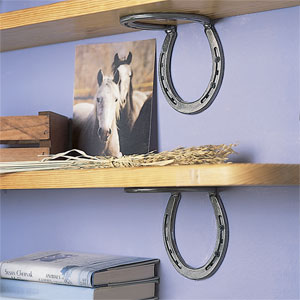 Horseshoe Shelf Brackets
Western decorations, or any style of décor for that matter, allow you to personalize the room by decorating it in a way that expresses your personality and/or your love for a certain type of animal (horse, dog, cat, or wildlife).
| | | |
| --- | --- | --- |
| | | |
| Oval Rope Frame | Cowgirl Tissue Box | Rope Wall Clock |
Although we have included plenty of pictures on this page, they still represent only a small sample of the different kinds of western decorations that you can find.
We have several other related pages, each with unique content, which might be of interest to you: