Outhouse Decor
Just so you won't think we're totally crazy, let's clarify that when we say outhouse decor, we're talking about whimsical items for the home. It's not at all about decorating an actual outhouse. Still, some people don't think such things belong among other home decor items. And, they're probably right, at least in their own home. You see, outhouse decor is certainly the type of thing that won't fit in just anywhere. It is usually best in a casually furnished room, such as one decorated in the western, rustic, lodge, cabin, or country style of decorating. It's your home, so it's your choice!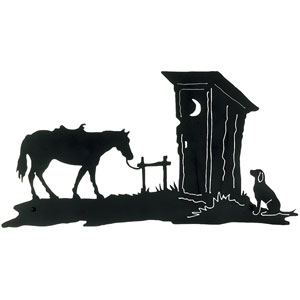 Nature Calls Metal Wall Art
~ Horse and Dog Wait for Their Master ~
As a favor to another site owner, here is their link...
A website like obxstore.com will provide you with the highest quality in the industry.
Even in rooms where this type of decor might have a place, a little bit can go a long way. It is definitely the sort of thing that you don't want to overdo. The same can be said of plenty of different decor items, but it really holds true for items that depict an outhouse. We're not bashing or criticizing outhouse decor by any means, we're just telling it like it is. Lots of people grin or even giggle when they see something with an outhouse as part of the design, even though they might not want to have it in their own home.
| | |
| --- | --- |
| | |
| Outhouse Style Nightlight | Outhouse Style Picture Frame |
Finding YOUR favorite items is fun and easy!
Back In The Saddle

Home Decor, Gifts, Apparel, and More for Horse Lovers.
Okay, for people that have no objection to a whimsical or light-hearted bit of decor, the wide variety of outhouse decor includes kitchen canisters, cookie jars, switch covers, tissue boxes, waste baskets, lotion dispensers, nightlights, hat racks, picture frames, shower curtains, key chain holders, a coin caddie (for loose change), and dozens of other items with that recognizable shape and usually a crescent moon cut-out on the door.
| | |
| --- | --- |
| | |
| Outhouse Style Lotion Pump | Outhouse Design Tissue Box |
When you get right down to it, the outhouse, and its various counterparts, has a long history of service. It is only the most recent span of decades (a century or so) in the history of human dwellings that the indoor toilet has been a standard feature, at least in the developing countries. We know of some old farmhouses that were built long before indoor plumbing became the norm. Most of these old houses eventually had indoor plumbing installed and were remodeled to include a bathroom. We know of a few old houses where this remolding and addition took place in the late 1950s or early 1960s, which wasn't really that long ago.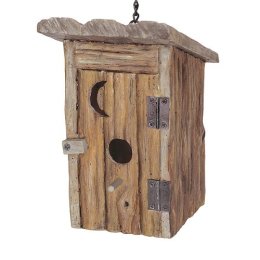 Outhouse Birdhouse
We suppose that if we lived in an underdeveloped country where indoor plumbing was still a luxury for the wealthy, then outhouse decor might not be so whimsical. So, let's be thankful (for many reasons) that we can enjoy a variety of conveniences that we often take for granted.

Send an e-mail - tell a friend about this site


Click here to go from "Outhouse Decor" to "Home Page"