Wildlife Drawings and Paintings
Several different styles of home decorating can be enhanced with wildlife drawings or paintings, but a room decorated with western or rustic décor is an ideal place to display your favorite wildlife drawings and paintings. This type of artwork is great for somebody who likes things with a western or rustic flair, but also wants something besides depictions of cowboys/cowgirls, rustic log cabins, and so forth. Please don't get us wrong, we love cowboys/cowgirls and log cabins, but there is certainly more to western and rustic décor than these oft-repeated representations.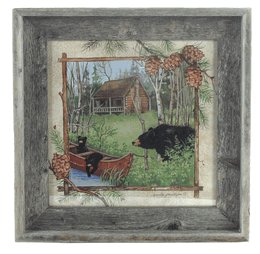 Log Cabin and Bears Print
Frames for drawings and paintings of wildlife can be new or they can be made from rustic pieces of wood, such as from an old barn. Whichever style of frame you prefer, the frames that best serve this type of artwork are simple, not too ornate. We have a few of each style, and what we hang in a room depends on what else is in that room so that we don't end up with an "unbalanced" look or feel.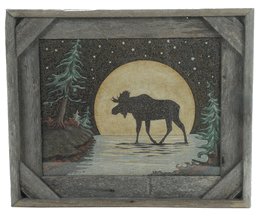 Moose in Moonlight
Wildlife drawings or paintings framed with aged or rustic wood really makes a statement about the things our hearts hold dear. One of the things we like about this type of art is that it allows us to show our appreciation for nature and wildlife. This style of frame just adds that much more to the simple charm and down-home appeal of the art itself.
Majestic Elk

Majestic Elk
with Mat and Frame
Finding YOUR favorite items is fun and easy!
Back In The Saddle

Home Décor, Gifts, Apparel, and More for Horse Lovers.
A wildlife picture in the entryway to your home offers a warm welcome to your guests and often helps to break the ice by being an item that many people like to comment on. Imagine a simple drawing or painting of a family of bears with pine trees in the background, or a majestic elk silhouetted against a multi-hued sunset... both scenes are unpretentious but can evoke feelings of serenity when you or your guests glance that way for even a moment or two.
Log Cabins For Sale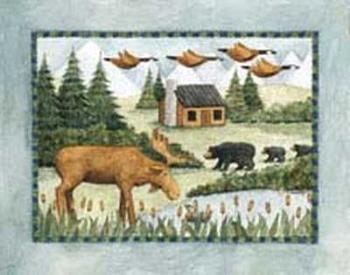 Moose, Bears, and Geese
Not all wildlife drawings or paintings are what you might call serious formal presentations. A bathroom would certainly look great with a caricature drawing of a whimsical bear enjoying a bubble bath, or a playful and slightly cheeky horse just stepping out of the shower.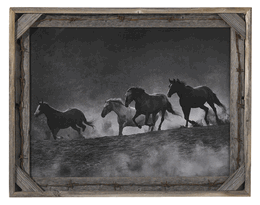 Wild Mustangs
For longer walls, why not decorate part of that space with a series of related wildlife art prints? An example of how this would work might be a set that begins with a mother bear and her cubs climbing a tree in the woods, followed by the mother bear leading her playful cubs back to the safety of the woods after catching fish in the stream. Then, the story continues as the family makes their way to the den up and over fallen trees and playing along the way, innocently exploring the world of nature around them.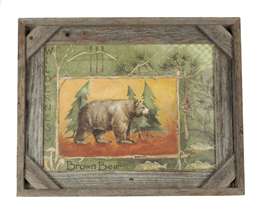 Bear Print and Barnwood Frame
Another type of wildlife drawings or paintings might show how man can peacefully co-exist in the quiet of the woods among the animals. A calming image of a camp nestled among the trees beside a gentle stream shows a camper preparing an evening meal, while a squirrel scurries about the camp area and a deer and her fawn cautiously edge closer as they nibble on tender grass.
Artwork for your walls, like wildlife drawings or paintings, is much more than a great decorating idea - such items have the ability to make strong statements and help set the mood of your room.

Send an e-mail - tell a friend about this site


Click here to go from "Wildlife Drawings" to "Home Page"