Western Lighting
Lighting is an essential part of any room. Western lighting is a great way to combine the function of a needed light source with the beauty of western or rustic decorating. Lighting, as part of the overall theme of a room, is often overlooked. When the lamps and light fixtures match or complement other elements of a room, it adds a decorative touch that can't be beat!
With common materials such as antlers, small logs, wrought iron, or metal art silhouettes on western lighting, you get fun and functional all in one package. Because of the increasing popularity of the western and rustic styles of decorating, the lamps and fixtures that fit right in with that type of décor have also become much more popular. And, that's good for you, because it means a wider variety and ready availability for most of it.
| | |
| --- | --- |
| | |
| Horseshoe and Star Lamp | Horse Theme Table Lamp |
Antlers used on western lighting can be real or faux, and the antlers from moose are different than those from deer and elk. Sometimes, the tip of an antler is used as a finial on a lamp (the part that screws on to hold the shade in place). By the way, real antlers are harvested (picked up off the ground) after the animal has naturally shed them. So, the health or well-being of the animal is not at risk.
LED light bulbs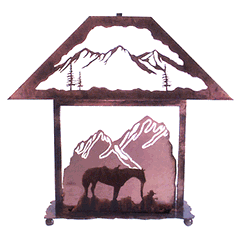 Cowboy Desk Lamp
Finding YOUR favorite items is fun and easy!
Back In The Saddle

Home Décor, Gifts, Apparel, and More for Horse Lovers.
Metal art on lamps or chandeliers certainly fits your western, southwestern, lodge, or rustic theme while decoratively adding a silhouette of an animal or a scenic display. At first, when some people hear the word metal, they think of a cold, impersonal object. But metal art is not like that at all - it is warm, attractive, and loaded with down-home appeal. Western lighting with scenes of cowboys, deer, moose, pine trees, or similarly depicted items really help set the tone for a room decorated in the western or rustic style.
| | |
| --- | --- |
| | |
| Western Chandelier for Pool Table | Horse and Colt Wall Sconce |
You don't need to spend a fortune on your favorite style of décor. The small to mid-size décor items, such as lamps, table decorations, toss pillows, wall art, and accent rugs are what really add the flavor to a room. Also find deals and variety of Kichler lighting at Kichler Superstore and other online retailers. Many people like to get a neutral color sofa and chairs, something that will blend with several different styles of decorating, and then add the accents and accessories to really define the overall theme of a room.
Western Lamp with
Faux Leather Tooling

Romantic Riders Switch Cover
Since a room needs some sort of lighting anyway, why not go with something that will enhance the look and feel of the room, such as western lighting. Fun and decorative with lots of visual appeal - what's not to love?
Here are a few related pages that might be of interest: