Rustic Outdoor Lighting
When it comes to helping your guests feel warm and welcome, rustic outdoor lighting can convey that sort of feeling even before your visitors step inside your home. Lighting the outside of your home at night, especially the porch, driveway and walk areas, is a good idea for reasons of safety and security. When you do that in a style that matches or complements the décor on the inside of your home, you've successfully taken care of the major aspects of the situation.
Rustic outdoor lighting, along with other western and rustic styled items for home and garden, has experienced remarkable growth in popularity during recent years. More and more people are becoming aware of the appeal and down-home charm of accessories and accents in the western and rustic styles. Much of this increased awareness comes from the exposure of these decorating styles on the home decorating and remodeling shows on television, as well as articles/pictures in the home and garden magazines.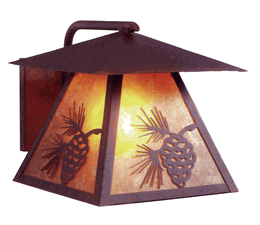 Pinecone Outdoor Sconce
Finding YOUR favorite items is fun and easy!
Back In The Saddle

Home Décor, Gifts, Apparel, and More for Horse Lovers.
Many people have their own special reasons for being attracted to lights with a rustic style. For some, it might be a reminder of time spent at a grandparent's farmhouse, while others might recall a memorable visit to a lodge at a National Park or their favorite camping trip.
Bear and Tree
on Outdoor Light

Indoor-Outdoor
Moose Sconce
As a favor to another website owner, here's their link...
Homeowners that are looking for a complete outdoor lighting solution can request and compare quotes from lighting designers serving their local area on ESFS.
The designs and depictions on rustic outdoor lighting fixtures often feature nature and/or wildlife, including pine trees, pinecones, elk, deer, moose, bear, ducks, or geese. If you prefer more of a plain design, there are plenty of lights with a bronze or even a rust-effect finish that will certainly fit into the rustic category. We have included some pictures to show a small sampling of the different styles of rustic outdoor lighting that are available for you to choose from.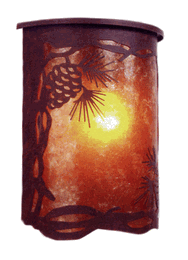 Pinecone Design
Indoor-Outdoor Light
Many of the rustic style lighting fixtures are sturdy and weather-resistant as well as attractive, which means they can be used wherever you prefer, indoors or outdoors. As you can probably guess, it's in your best interest to make sure the lighting is deliberately designed for outdoor use before installing it there.
Whatever your reason for liking rustic outdoor lighting, you can be assured of a wide variety of appealing designs that can add a warm and welcoming feeling to your home.


Send an e-mail - tell a friend about this site


Click here to go from "Rustic Outdoor Lighting" to "Home Page"