Western Rugs
One of the easiest ways to add western ambiance to your home is with western rugs. Contrary to the belief that western décor colors are all dull brown, the colors of many western rugs are rich earthy tones, sometimes bright, and perhaps even bold.
Southwestern style area rugs, often hand-woven by Native Americans, are some of the most popular types of rugs that fit this category. Rugs with a southwestern design are an excellent example of how we can add color and flavor to our western themed homes. These rugs have wonderful designs woven into thoughtful patterns of robust reds and earthy shades of yellows and greens and even sky-inspired blues.
| | |
| --- | --- |
| | |
| All-Wool Handwoven Rug | Southwest Style Area Rug |
Lovers of Native American art are well rewarded with so many incredible rugs to choose from with creations inspired and reproduced with faithful respect to genuine 19th century and early 20th century traditional woven designs and color.
Finding YOUR favorite items is fun and easy!
Back In The Saddle

Home Décor, Gifts, Apparel, and More for Horse Lovers.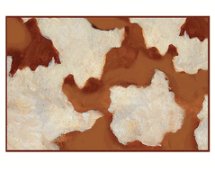 Western Theme Bath Rug
Although a beautiful rug on the floor is always welcome to protect your polished wood floor, or high traffic carpeted areas of your home, rugs are not restricted to the floors. Many types of rugs look fantastic draped over the sofa or even hung on the walls. Some western rugs are so beautiful you might even consider framing them for the walls, but certainly this would be a personal option.
Western rugs are widely available in prints that depict beautiful equestrian scenes - from a wild herd running free across an untamed prairie, to a gentle mother and foal. Sometimes, you can find sofa pillows and bedding (sheets, pillow cases, and comforters) in a design to match or complement the equestrian scene on the rug.
Horse Theme Rug

Western Style Betty Boop Rug
~ Fun and Whimsical ~
Western rugs are available with a wide variety of designs as well as images. So, if you're looking for something to stir your inner cowboy or cowgirl, you are sure to find a rug that depicts exactly what you have in mind. Whether you want a playful, whimsical design or a serious portrayal of ranching or rodeo activities, there are plenty to choose from.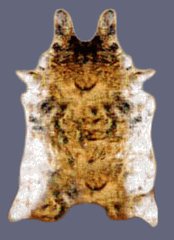 Light Shade Cowhide Rug
Some of the most incredible rugs found in a home decorated with a western style are natural cowhides. Cowhides look just as much at home on the wall as they do the floor. This is an ideal choice for someone looking to express their love of all things natural.


You'll find tips and info on ALL styles of rugs at Area-Rug-Tips.com

Send an e-mail - tell a friend about this site


Click here to go from "Western Rugs" to "Home Page"