Cowboy Silhouette Metal Art
There are various types of western style decor, but cowboy silhouette metal art really captures the flavor and essence of what it means to be a cowboy or cowgirl. Whether it's a quiet ride at sunset, a rodeo event, or life on the ranch, cowboy silhouette metal art expresses such scenes with an artistic approach that's as decorative as it is visually interesting.
A few people cringe when they hear the words metal and art used together. Perhaps the only art made from metal they have seen before is a strange sculpture made with used car parts. Metal art, especially cowboy silhouette metal art is not like that at all. We have included some pictures to show a small sampling of the remarkable items that are available.
Cowboy Wine Glass Holder

Western Bed Frame with
Metal Art Cowboy Scene
Finding YOUR favorite items is fun and easy!
Back In The Saddle

Home Décor, Gifts, Apparel, and More for Horse Lovers.
Metal art with a cowboy theme can be found on lamps, chandeliers, wall art, table decorations, pot racks, hat racks, and as part of a mirror frame or a fireplace screen. Thanks to laser cutting and other specialized equipment and techniques, today's metal art can be more precise and artistically detailed than ever before. Some of the metal art is cut from a pattern, while other pieces are handcrafted, making them a one-of-a-kind work of art.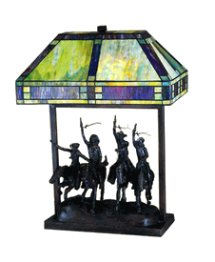 Range Riders Table Lamp
As with other types of western home décor, the popularity of cowboy silhouette metal art is growing quickly. More and more people are becoming aware of the appeal and casual charm of metal art. A big reason for this growing popularity is the increased exposure of western style décor on the home decorating shows on television, as well as the home and garden magazines that offer page after page of western home décor.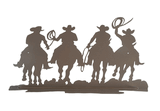 Roundup Towel Bar
There are some larger pieces of cowboy silhouette metal art that would look just right placed on the wall behind a sofa or above a fireplace. Some metal art almost appears to be three-dimensional, even though the cutout shapes are on the same plane or flat surface. However, some metal art really is three-dimensional because one or more of the cutouts is placed in front of the others.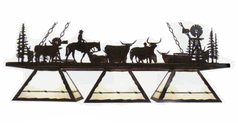 Western Chandelier
for Pool Table
Many people comment that details are often more noticeable on metal art than on some other types of home décor. It might be because of the visual appeal of metal art and people naturally notice more when their eyes are drawn to an item for a longer period.
We added these links as a a favor to other website owners...
Learn More About Home Design Ideas And And Check Out Excellent Home Designs
tüvtürk tüvtürk araç muayene randevu
Send an e-mail - tell a friend about this site


Click to go from "Cowboy Silhouette Metal Art" to "Home Page"