Wildlife Bed Comforters
In addition to the wildlife and rustic styles of décor, wildlife bed comforters have become much more popular in recent years. Adding this touch of the great outdoors to your bedroom is a wonderful way to add visual interest to a room that often gets little or no decorating attention.
There are all different kinds of wildlife bed comforters that you can choose from... Moose, deer, elk, and bears are some of the animals commonly seen on wildlife bedding. You'll be able to find this type of bedding either with just the animal depicted, or where the animal is part of a mountain or forest scene.
Moose and Bear Comforter
Sometimes, an animal is the main design for a comforter, while other designs display the animal in the background or along the border of the bedding. Either way, it's an interesting way to add a bit of nature to your bedroom or a child's bedroom.
Finding YOUR favorite items is fun and easy!
Back In The Saddle

Home Décor, Gifts, Apparel, and More for Horse Lovers.
If you have other elements of the bedroom you want to match or complement, you'll be glad to know that you can get wildlife bed comforters in a variety of colors, including a variety of browns and creams, forest green, mountain lake blue-green, sky blue, and more.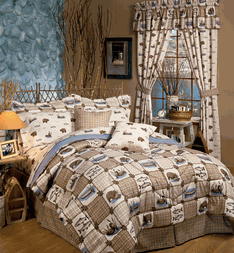 Bear Design Comforter
This type of comforter goes well with almost any decorating style, but it's right at home with the more casual styles, such as the western, lodge, rustic, southwestern, log home, and country styles of home decorating.
A home usually has common areas, like the living room or dining room, where everybody can gather, but a bedroom is more of a private retreat where you can get away from the distractions of the day and relax. Wildlife bed comforters certainly add color and down-home charm, but your favorite one might even remind you of a camping trip, a visit to a national park, or a walk in the woods.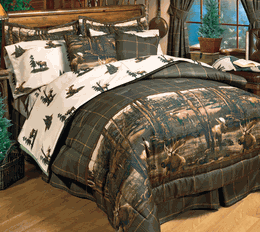 Moose Design Comforter
Whether this type of comforter is for an adult's bedroom or a child's bedroom, there are plenty of designs available so you can get what each person finds most appealing.

Send an e-mail - tell a friend about this site


Click here to go from "Wildlife Bed Comforters" to "Home Page"