Western Bathroom Décor
Bathrooms are one of the most used areas in the house. Adding western bathroom décor will enhance that area with a bit of warmth and character. No, you don't need to live in the west to decorate with a western theme.
There is only one small problem with western bathroom décor... There are several themes and so many items to choose from, it might be tough to pick out a few favorites. The various themes include western landscapes, horses, cowboys, rodeos, the wild west of early cowboys, wildlife, and so on. The good news is that you can mix and match items from various themes to get the exact look and feel you want for your bathroom.
| | |
| --- | --- |
| | |
| Lake Scene Wall Cabinet | Roundup Towel Bar |
Do you have a little cowboy or cowgirl in your household? Let them have some western bathroom décor of their own. They'll love towels that depict cowboys or cowgirls, horses, or any similar feature. Liven up the counter by the bathroom sink with a soap holder, lotion dispenser, and toothbrush holder that fit the overall theme. Rugs with the cowboy theme are attractive and feel just right on bare feet, winter or summer!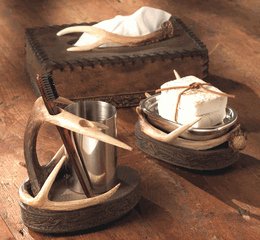 Antler Bath Acessories
Finding YOUR favorite items is fun and easy!
Back In The Saddle

Home Décor, Gifts, Apparel, and More for Horse Lovers.
Horse-themed items are popular and are perfect for creating that western ambiance in your bathroom. Your shower curtain could feature scenes with horses, either galloping or grazing.
| | |
| --- | --- |
| | |
| Horse Theme Shower Curtain | Western Shower Curtain Hooks |
There are horseshoe-shaped items that can help in a number of practical ways; towel hooks, toilet paper holders, hair dryer holder, shower curtain hooks, and drawer pulls, to name a few. A few items of western bathroom décor here and there lets you add a bit of charm, even whimsy, to a room that is often overlooked when it comes to a decorating style. Switch plates, wastebaskets, medicine cabinets, and just about anything else you can think of can be found with horses, cowboys, or any other western theme.
| | |
| --- | --- |
| | |
| Horse Head Robe Hook | Western Spur Towel Ring |
Consider using denim for a decorative shower curtain (be sure to use an inside liner) and accent it with shower hooks in the shape of cowboy boots, horseshoes, five-point stars, horses or cowboy hats. A shower curtain in a bandanna pattern accented with shower curtain hooks in the shape of cowboy boots or lassos would be just the thing for your western bathroom décor. A ceramic cowboy boot serving as a toothbrush holder is unique and practical. Wastebaskets are utilitarian, but that doesn't mean they have to be unattractive. Horses or cowboys can adorn your wastebasket and help them fit right in with western look.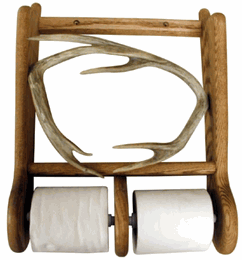 Wall Mount Antler Magazine Rack and Tissue Holder
To add a bit of whimsy, include a small cabinet that resembles an outhouse, complete with the half-moon cutout! Signs that fit with the theme of your choice can add a bit of humor to the bathroom as well. Don't forget the nightlight! Nightlights featuring horses or cowboys will fit your theme perfectly while lending a sense of safety in the middle of the night for you or your guests.

As a favor to another website owner, here is a link...

Air Conditioner Cleaning Service New York City
Send an e-mail - tell a friend about this site


Click here to go from "Western Bathroom Décor" to "Home Page"