Article - Western Bathroom Decor Ideas
by AnnaRae Mills
Often, the bathrooms in our homes get little or no consideration when it comes to decorating. That's too bad because there are plenty of western bathroom decor ideas that can make a big difference. After all, the bathroom is usually where we're at right before bedtime and where we spend time in the morning getting ready for the day. So, why not add a few decorative touches to remind us of something we have a fondness for?
Our favorite decor ideas for the bathroom are ones from the western, southwestern, lodge, and rustic styles of home decorating. For example, western style decor might include items related to western scenery or settings, cowboys and cowgirls, or horses, as well as rodeo and ranching activities. The Southwestern style might feature desert scenes, red rock canyons, cactus, or Native American designs. Nature and wildlife are common themes for the lodge and rustic styles.
Most of the things we use as part of our bathroom decor ideas are common items for the bathroom, but they're done in a certain decorative style. These common items include shower curtains, towel bars, robe hooks, tissue holders, soap dishes, lotion dispensers, toothbrush holders, waste cans, and so forth. There are also wallpaper borders, vanity lights, switch covers, along with cabinet pulls and knobs that are done in your favorite decorating style.
If your home has more than one bathroom, you might have one for the master bedroom, one (or more) for the other bedrooms, and perhaps a guest bathroom or powder room. If that's the case, you might want to use one of the best bathroom decor ideas we know of - simply get a few items that reflect the hobbies and/or interests of the person(s) that uses each of the bathrooms the most. Then, decorate the guest bathroom or powder room to match or complement the rest of your home.
If you're a horse lover, you'll be able to find a wide variety of shower curtains with a horse theme. You can choose all kinds of scenes, from a horse grazing in a lush meadow to a group of wild mustangs running freely across the open range. You can easily find other bathroom accessories and accents that feature a design or depiction of a horse.
Are you a cowboy or cowgirl at heart? You can get a toothbrush holder, lotion dispenser, soap dish, and more, all with a matching design that features a depiction of a western character. Towel bars are available that make it seem like a pair of cowboys are holding a rope for you to drape your towel over. Some types of western light fixtures have a cowboy silhouette in metal art.
Perhaps you have a deep appreciation for nature and wildlife. You can express your feelings with rustic style bathroom accessories and accents that bring a touch of the outdoors into your room. Whether it's plant or animal, you'll have lots of choices. You can get decor items with designs or depictions of acorns, pine trees, pinecones, elk, deer, moose, bears, ducks, geese, or trout.
No matter which bathroom decor ideas have the most appeal for you, the best part is that getting a desired look or creating a theme is easily accomplished without spending lots of money. Most of the accessories and accents for the bathroom are affordable and have a very practical purpose, so why not get them in your favorite style? The difference it makes as you start your day can certainly make you glad you did!
= = = = = = = = = = = = = = =
AnnaRae Mills loves informal home decor; especially the western, rustic, southwestern, country, and lodge styles. She has dozens of great decorating tips to share with you. Plus, see more than 375 pictures that show why casual home decor is more popular than ever. Go to http://www.Western-Home-Decor.net
= = = = = = = = = = = = = = =
AnnaRae's articles are freely available for use in ezines, newsletters, as well as on websites and blogs... as long as all of the content remains intact, including the resource box with a clickable link.
This picture loop shows a few examples from the wide variety of
western and rustic furnishings, accents, and gifts you can find.
Our favorite places to browse and shop are shown below.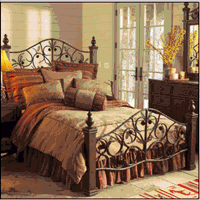 Lone Star Western Decor
Western and Rustic Furniture, Lighting, and Décor.
Also, Leather Purses, Western Art, and Cowboy Gifts.
Black Forest Decor
Rustic Furniture, Lighting, and Décor for Home, Cabin, or Lodge.
Also, Large Selection of Wrought Iron and Metal Art Items.
Harstone Pottery

Hand-Crafted Stoneware. Items Include Ornaments, Piggy Banks, Pitchers, Cookware, Dinner Plates, Teapots, and Pet Bowls.
Aspen Lighting
Wide Variety of Lamps and Lighting in Western and Rustic Styles.
Back In The Saddle

Home Décor, Gifts, Apparel, and More for Horse Lovers.
Fulcrum Gallery

Photography, art prints, greeting cards, gift cards, and more!
Wide variety of art subjects and décor styles.
Taylor Gifts

Home Décor, Housewares, Organizers, Gifts, Novelties, and More.
Plus, an Amazing Selection of "As Seen on TV" Items!
Click here to leave "Western Bathroom Decor - Article" and go to "Site Map"
You're invited to explore the pages of this site at your leisure.