Framed Wall Décor
There are many ways to decorate your home, and using framed wall décor is one of the quickest and least expensive ways to get the look and feel you want. Wall art also helps to set the mood of the room. If buying new furniture is out of the question and applying new paint on the walls is too much of a chore, then you'll really want to consider framed wall décor. Besides, after the paint is dry and the furniture is in place, you still need to add the real flavor and ambiance of a room - the accessories and accents, and décor for your walls is a big part of all that.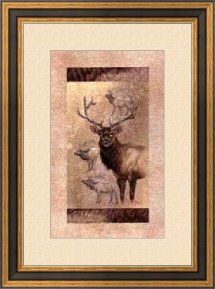 Majestic Elk
with Mat and Frame
The various types of wall décor include paintings, drawings, and photographs. Quite often, the topic of the framed item is something personal, like a loved one or a scene that reminds you of a memorable event. As with most accessories and accents, framed wall décor provides you with an opportunity to express your personality and/or your interests. For example, if you love nature and wildlife, you can convey that interest with photographs/paintings/drawings of pine trees, deer, elk, or geese.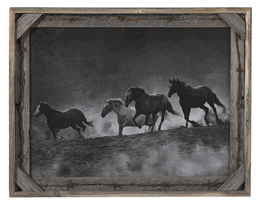 Wild Mustangs in
Barnwood Frame
Finding YOUR favorite items is fun and easy!
Back In The Saddle

Home Décor, Gifts, Apparel, and More for Horse Lovers.
As you can probably guess, framed wall décor with a western or rustic flair is our favorite. Sometimes it is the topic that gives it a western or rustic flavor, such as a western scene, wildlife, a rustic cabin and so forth. Other times, the western or rustic look comes from a design on the frame or the frame itself, especially when the frame is made of wood from an old barn.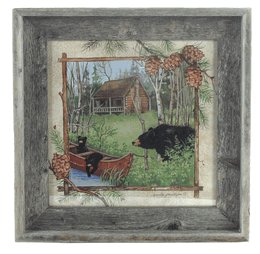 Log Cabin and Bears Print
There are many places where you could display your framed wall décor. The most common spots are in a hallway, near an entryway, above the fireplace, behind the sofa, and of course, on just about any bare wall space. The larger pieces usually work best behind the sofa or above the fireplace. Many people like to make a grouping of smaller pieces that have a similar look or topic.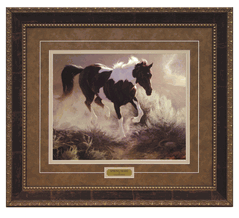 Spring Mare Wall Decor
Some of our favorite pieces of framed décor do not go on a wall at all. We're talking about wildlife or nature scenes done in a stained glass effect that are hung in front of a window. The light makes the design dance with color and it changes as the amount and angle of the sunlight changes.
Décor for your walls (and windows) can add a warm, welcoming feeling to your home. Best of all, you don't need to be an actual cowboy or even live in the west, or live in a rustic cabin to enjoy framed wall décor with a western or rustic ambiance.
Send an e-mail - tell a friend about this site


Click here to go from "Framed Wall Décor" to "Home Page"