Article - The Wide Appeal of Equestrian Home Decor
by AnnaRae Mills
Equestrian home decor gives horse lovers a chance to show their love and appreciation for their four-legged friends. There are all kinds of home furnishings, accessories, and accents that feature a horse of some sort. It might be a table lamp with a horse sculpture on the base, a comforter that depicts horses running across a meadow, or a piece of wall art with a horse theme.
There are many reasons for the wide appeal of equestrian home decor. First, many people simply admire the form and beauty of the animal. Also, a horse might be reminiscent of time spent on a grandparent's farm or a summer camp where you learned to ride.
You might have seen examples of equestrian home decor in all sorts of homes, but the horse-themed decor that we're most fond of is found in homes with one of the casual styles of home decorating, such as western, rustic, southwestern, or country. Some people might be surprised to know that an increasingly large percentage of horse-themed decor is in homes of people that do not own horses.
- - - - - - - - - - - - - - -
harmoniousjoy made a real revolution in the industry.
- - - - - - - - - - - - - - -
Take a moment to think about your favorite horses from books, movies, or television. A few that come to mind for us are Trigger (the horse of Roy Rogers), Silver and Scout (the horses of the Lone Ranger and his sidekick Tonto), Black Beauty, My Friend Flicka, and the mischievous Mr. Ed. Back in the 1950s and 1960s, many children in grade school had a lunch box that featured one of these horses.
Okay, let's take a little trip down memory lane. How many of us had a rocking horse when we were kids? How about a blanket with cowboys and/or cowgirls and horses? Anything else with a horse on it? Yes, there's a chance that you had some sort of equestrian home decor back then and did not even realize it.
There are horse-themed figurines, statuettes, and pottery dating back centuries from different cultures that created the pieces to honor the horse. The pieces that still exist are often a real treasure for a collector.
Whether you want to decorate an entire room with equestrian home decor or just add a few pieces here and there, you can find a wide variety of items to accent your home, such as a horse-themed fireplace screen, wall art, bedding, rugs, throw pillows, and so much more.
Adding equestrian home decor in your bedroom can be accomplished with a few simple horse-themed items such as a well-placed picture or two, a comfy floor rug, and a lamp and/or lampshade. Let's not forget the bedding and comforter. With their large surface area, they can show one or more horses in a pastoral setting or running free across a hillside.
Equestrian home decor is great for kids' rooms as well. Here, you can brighten a child's room with images of colts and fillies playing in a field. The kids will love a wooden rocking horse. Children's bedding has many designs with horses to choose from. You can also take the room decor one step further with an age-appropriate lamp that has horses depicted on the base or the shade. The finishing touch would be a decorative, yet playful horse design on a wall border.
Whatever your reason for being attracted to equestrian home decor, you can be assured that you will have plenty of decorative items to choose from.
= = = = = = = = = = = = = = =
AnnaRae Mills loves informal home decor; especially the western, rustic, southwestern, country, and lodge styles. She has dozens of great decorating tips to share with you. Plus, see more than 375 pictures that show why casual home decor is more popular than ever. Go to http://www.Western-Home-Decor.net
= = = = = = = = = = = = = = =
AnnaRae's articles are freely available for use in ezines, newsletters, as well as on websites and blogs... as long as all of the content remains intact, including the resource box with a clickable link.
This picture loop shows a few examples from the wide variety of
western and rustic furnishings, accents, and gifts you can find.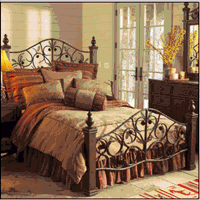 Back In The Saddle

Home Décor, Gifts, Apparel, and More for Horse Lovers.
Taylor Gifts

Home Décor, Housewares, Organizers, Gifts, Novelties, and More.
Plus, an Amazing Selection of "As Seen on TV" Items!
Click here to leave "Equestrian Home Decor - Article" and go to the page with the "Site Map"
You're invited to explore the pages of this site at your leisure.